Real Estate Brokerage: Buy & Sell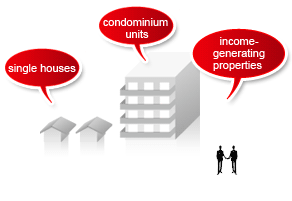 From condominium units and single houses for individuals to income-generating properties geared towards real estate investment funds, we provide real estate buy and sell brokerage services that match the needs of each client.
After discussing criteria such as budget and other requirements with our clients, we undertake an independent market survey based on our many years of experience and performance. This enables us to select the most appropriate properties to recommend to the client.
For clients who wish to sell property, we conduct a thorough market analysis to assess buyer sentiment. We then assist the client in selling the property to the best buyer at the best price.