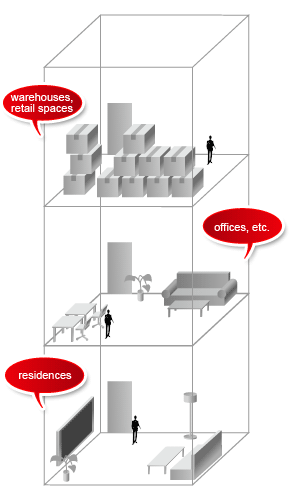 Real Estate Brokerage: Rentals
<Support for Tenants>
From individuals to corporations, from residential flats for singles to large corporate offices, warehouses, retail spaces, showrooms and clinics, we handle a wide variety of properties. Our experienced staff conducts onsite inspections of potential properties to find the ones most suitable for our clients' needs. We then negotiate rent and review contract conditions from a professional standpoint, exerting all effort to protect the client's interests. Through our interior design team, we can also provide comprehensive design services, starting from preliminary layout and basic planning, to design execution, to fit-out works construction and FFE sourcing as well. 
<Support for Landlords>
With decades of experience working on behalf of landlords, leasing is one of our specialties. We can help attract potential tenants for any property, be it offices, residences, or commercial spaces.
Our services cover all aspects needed to fully support and represent property owners: making rent rate proposals, creating pamphlets to recruit tenants, undertaking documentation work for lease contracts, and managing rent remittances, among many other services.